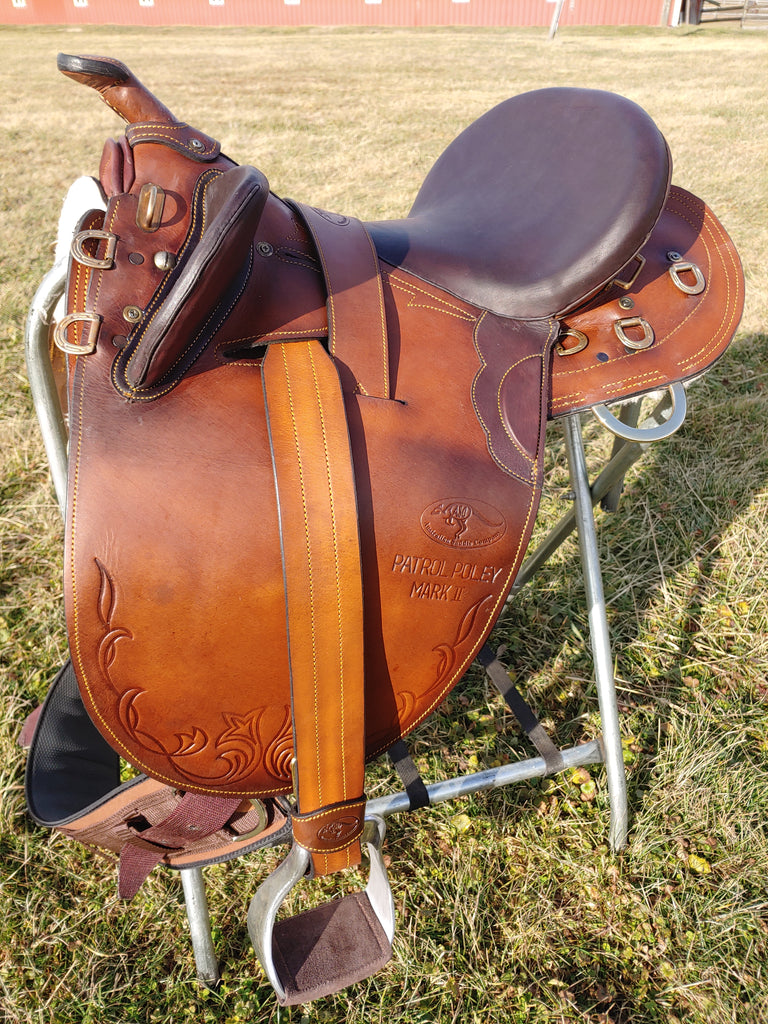 Patrol Poley Saddle
A special saddle designed for extra long hours. A favorite with Police Departments and private mounted units. The secret to the saddle's success is a tree that covers as much of the horse's back as possible - resulting in low pressure for the horse. The saddle comes in two-tone brown or solid black. The saddle's weight starts at 23lbs, it has a 4 3/4" kneepads an a 5"dip in a web-strung seat, and it features an adjustable wood/aluminum tree. 
The Patrol Poley has been upgraded to big "D" rigging, working in conjunction with a double ring surcingle. The two girth rings are connected with a tackaberry lacing to a double-ring girth. First, the off-side is set with a tackaberry, and then left in that position. The on-side, of course, is where the final adjustment takes place.
This saddle comes with 2.5" color matched Campdraft Leathers, double ring over-girth, nylon off-side strap, on-side tackaberry buckle with nylon strap, stirrups , and a neoprene girth.
Weight: without fittings approximately 23 lbs
(larger seat sizes will weigh slightly more)
Seat Depth: 5"
Kneepads: 4.75"
Panel Type: Acrylic Fleece
---
More from this collection