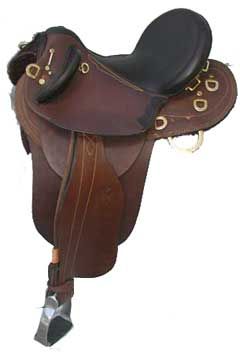 Fox Poley Saddle
A beautiful and rugged crossover saddle, the Fox Poley is named after the crafty and sleek hunter that has achieved apex predator status in parts of Australia. Fitted with swinging fenders mounted on a stirrup bar, and built on a web strung wood and aluminum tree, this saddle is designed for comfort and durability. The seat has a 4.5 inch dip and the knee pads are 3.5 inches high. The man-made fleece on the underside provides durability and comfort for the horse. These saddles are available in a dark mahogany brown with black poleys and seat leather or in an all black style. 
This saddle comes with western style fenders, leather off-side strap, on-side tackaberry buckle with nylon strap, stirrups, and a neoprene cinch.
Weight: without fittings approximately 26 lbs
(larger seat sizes will weigh slightly more)
Seat Depth: 4.5", Kneepads: 3.5"
Panel Type: Acrylic Fleece
---
More from this collection